Posted:
January 24th, 2007 |
Author:
Matt Croydon
|
Filed under:
Projects
,
Python
,
Web Services
|
3 Comments »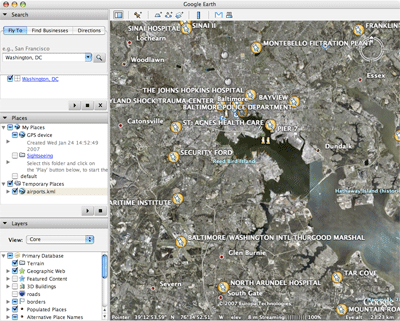 After stumbling upon Transtats again today I took my semi-anual visit to the FAA data and statistics page to see if there was anything new to play with. The unruly passenger count still looks like it's down for 2006 but I was really interested in playing with the airport data that I've seen before.
After a little help from Python's CSV module and some helper functions from geopy, I whipped up a 4 meg KML file for use with Google Earth or anything else that can import KML. Be warned thought that the file contains some 20,000 airports, helipads, and patches of dirt that can lead to some rendering bugs. If you're interested, here's the code that generated the KML.
---